Free Power BI – Build a Dashboard in an hour event Thursday 10th May
Friday, April 6, 2018
We would like to invite you to try Power BI at our
FREE 'Build a Dashboard in an Hour' half day event which will be held at
JCS training Northampton NN3 6QB
THURSDAY 10TH MAY 2018 9:30am – 12:00 noon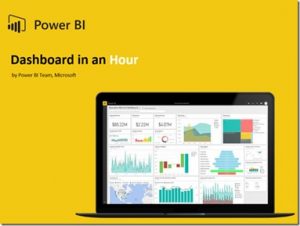 Learn how to build a Power BI interactive dashboard in an hour
Power BI is the most powerful suite of business intelligence and analytics tools on the market for a variety of reasons:  It can natively connect to hundreds of different data sources to deliver valuable insights to your organization in just minutes. It can do this not just for experts, but for nontechnical users as well—giving everyone the power of real-time data analytics right in their palm.
Power BI can give any organisation complete control over all its data, helping to drive more valuable insights and empower employees to meet and even exceed their goals.
You will learn the following during this half-day event:
how Power BI can connect to multiple data sources for analysis purposes.
how to build a basic data model and understand how relationships between tables provides significant flexibility when analysis data from multiple sources.
the role of Power BI Desktop and its relationship with Power BI Service.
how to perform various data transformation tasks in preparation for analysis.
how to create various charts & tables to represent the underlying data.
how to filter data so users can discover their own data insights.
how to publish reports to the Power BI Service and share with colleagues.
Having attended this seminar, you will be much better placed to identify how Power BI could be used in your organisation to help individuals to take responsibility for their own reporting needs and how Power BI can be used to identify new hidden insights and improve profitability.
ACCEPTANCE OF ATTENDANCE
If you would like to attend this half day event please click on the following link giving name of attendees, the company name and telephone number.
Joining instructions will then be sent over to you.  (Refreshments will be served during this event).
ACCEPTANCE OF ATTENDANCE
Power BI at our 'Build a Dashboard in an Hour' free half day event
Or call us on T: 01604 495252