Agile Foundation Project Management Training September 2021
Monday, August 2, 2021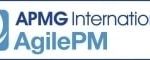 What is AgilePM?
Agile is a project management method whereby the project is undertaken incrementally, making it easier to determine what the changes and risks will be and so making it easier to deal with them if and when they do arise. Each part of the project is revised at certain, predetermined times. This will ensure that, if a problem or obstacle arises, the situation can be corrected and, if necessary, the project can be steered in a different direction.
Agile Foundation Project Management training. 3 day & Exam.
The Agile Foundation course is the first level of training in the Agile method. It teaches candidates the fundamentals of the Agile method and gives them the ability to apply the method to projects in a practical situation.
The guidance is based on the Agile Business Consortium's Agile Project Framework and is underpinned by the framework's eight principles for effective agile project delivery:
Focus on the business needs
Deliver on time
Never compromise quality
Build incrementally from firm foundations
Build Iteratively
Collaborate
Communicate continuously and clearly
Demonstrate Control
The AgilePM guidance and supporting training courses explain how to lay the foundations for successful agile projects and manage an agile project from start to finish.
Want to know more?  
Agile Foundation Project Management Training September 2021
Training to be delivered by TEAMS training times 09:30-15:30
Day 1 Monday 06.09.2021
Day 2 Wednesday 08.09.2021
Day 3 Friday 10.09.2021
Exams Tuesday 14.09.2021 time to be confirmed during Day 1
For cost and more information e: training@jcstraining.com 
or call 01604 495252